We're Getting Mutants in the MCU - The Loop
Play Sound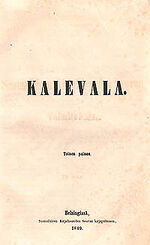 Kalevala is the national epic of Finland. It was compiled by Elias Lönnrot based to poems he and his helpers collected from various areas, mainly in Eastern Finland, Karelia and Ingria. The first version of Kalevala was published in 1835 (The Old Kalevala), but the version most commonly known today was first published in 1849 (The New Kalevala).
Kalevala starts with a creation myth, where the world hatched from a common goldeneye's egg. Kalevala tells various stories, including some about the people of Kalevala and Pohjola and the building and stealing of Sampo. The events end with the arrival of Christianity.
Kalevala had an important role in the development of the Finnish national identity. It has also affected Finnish culture and art.
Creation
While Elias Lönnrot compiled the poems into one epic and made multiple trips around the countryside in order to collect his material, he got help from poem singers and his fellow scholars. One of them was D.E.D. Europaeus who collected a total number of 53.000 lines of poetry on his five trips, more than Lönnrot on his ten trips.[1] Lönnrot travelled from Southern Finland to Tavastia, Savonia, Kainuu, Northern Ostrobothnia, Lapland and Karelia in Finland; Kola Peninsula, Arkhangelsk Oblast, White (Viena) Karelia and Olonets Karelia in Russia. In addition to these, Europeaus travelled to Ingria, where the Kullervo story was found. Kullervo was known to all peoples in Ingria.[2]
Some of the most influential individual poem singers in the creation of Kalevala were Juhana Kainulainen, Ontrei Malinen, Vaassila Kieleväinen, Arhippa Perttunen, and Mateli Kuivalatar.[3][4] Inspired by Vaassila Kieleväinen, Lönnrot ended up making the story line of Kalevala focus on Väinämöinen.
While making the second version of Kalevala (The New Kalevala), Lönnrot had c. 170.000 lines of poetry, though many of them were repetitions. 43.000 of the lines were from White Karelia, 22.000 from Ingria, and 5.000 from Olonets Karelia. Rest c. 100.000 were from many different places in Finland.[5]
References